First of all: What is whois? It is a protocol and a tool that will report data about a domain or an IP. This data can report the owner of the domain or IP as well as the nationality or in the case of the IP the geolocation:
user@host~$ whois wordpress.com
 Domain Name: WORDPRESS.COM
 Registry Domain ID: 21242797_DOMAIN_COM-VRSN
 Registrar WHOIS Server: whois.markmonitor.com
 Registrar URL: http://www.markmonitor.com
 Updated Date: 2017-01-12T22:53:10Z
 Creation Date: 2000-03-03T12:13:23Z
 Registry Expiry Date: 2020-03-03T12:13:23Z
 Registrar: MarkMonitor Inc.
 Registrar IANA ID: 292
 Registrar Abuse Contact Email: abusecomplaints@markmonitor.com
 Registrar Abuse Contact Phone: +1.2083895740
 Domain Status: clientDeleteProhibited https://icann.org/epp#clientDeleteProhibited
 Domain Status: clientTransferProhibited https://icann.org/epp#clientTransferProhibited
 Domain Status: clientUpdateProhibited https://icann.org/epp#clientUpdateProhibited
 Domain Status: serverDeleteProhibited https://icann.org/epp#serverDeleteProhibited
 Domain Status: serverTransferProhibited https://icann.org/epp#serverTransferProhibited
 Domain Status: serverUpdateProhibited https://icann.org/epp#serverUpdateProhibited
 Name Server: NS1.WORDPRESS.COM
 Name Server: NS2.WORDPRESS.COM
 Name Server: NS3.WORDPRESS.COM
 Name Server: NS4.WORDPRESS.COM
 DNSSEC: unsigned
 URL of the ICANN Whois Inaccuracy Complaint Form: https://www.icann.org/wicf/
>>> Last update of whois database: 2018-02-06T23:42:26Z <<<

And you may ask, where does this data come from? This data comes from a database offered by whois servers. These servers can have specific information or can offer as for example "whois.internic.net" which provides information about virtually any domain and can be asked by IP returning the DNS of each domain associated with this IP.
As can be seen in: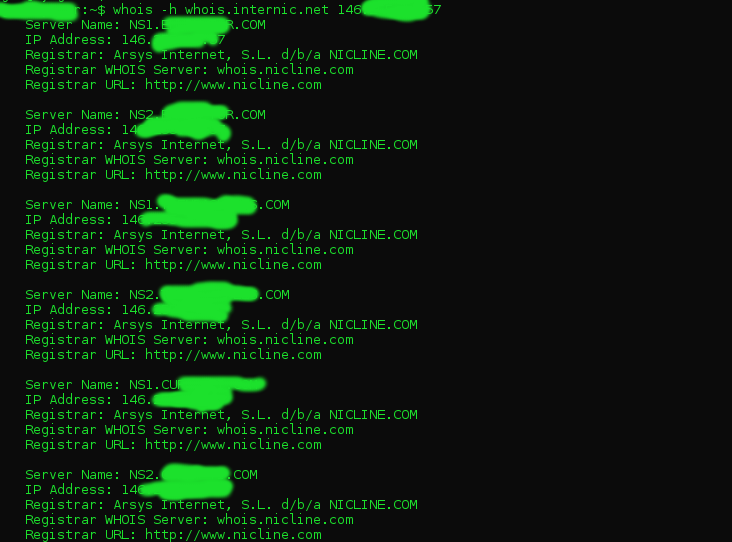 If we make a query on an IP the default whois servers, it will report all the data related to the owner of the IP, if an nslookup has been made on a domain and we have obtained an IP, running this command we can see which service provider hosts these services:
user@host:~$ nslookup google.es
Server:		10.0.0.254
Address:	10.0.0.254#53

Non-authoritative answer:
Name:	google.es
Address: 216.58.210.131

user@host:~$ whois 216.58.210.131

#
# ARIN WHOIS data and services are subject to the Terms of Use
# available at: https://www.arin.net/whois_tou.html
#
# If you see inaccuracies in the results, please report at
# https://www.arin.net/public/whoisinaccuracy/index.xhtml
#


#
# The following results may also be obtained via:
# https://whois.arin.net/rest/nets;q=216.58.210.131?showDetails=true&showARIN=false&showNonArinTopLevelNet=false&ext=netref2
#

NetRange:       216.58.192.0 - 216.58.223.255
CIDR:           216.58.192.0/19
NetName:        GOOGLE
NetHandle:      NET-216-58-192-0-1
Parent:         NET216 (NET-216-0-0-0-0)
NetType:        Direct Allocation
OriginAS:       AS15169
Organization:   Google LLC (GOGL)
RegDate:        2012-01-27
Updated:        2012-01-27
Ref:            https://whois.arin.net/rest/net/NET-216-58-192-0-1



OrgName:        Google LLC
OrgId:          GOGL
Address:        1600 Amphitheatre Parkway
City:           Mountain View
StateProv:      CA
PostalCode:     94043
Country:        US
RegDate:        2000-03-30
Updated:        2017-12-21
Ref:            https://whois.arin.net/rest/org/GOGL


OrgTechHandle: ZG39-ARIN
OrgTechName:   Google LLC
OrgTechPhone:  +1-650-253-0000 
OrgTechEmail:  arin-contact@google.com
OrgTechRef:    https://whois.arin.net/rest/poc/ZG39-ARIN

OrgAbuseHandle: ABUSE5250-ARIN
OrgAbuseName:   Abuse
OrgAbusePhone:  +1-650-253-0000 
OrgAbuseEmail:  network-abuse@google.com
OrgAbuseRef:    https://whois.arin.net/rest/poc/ABUSE5250-ARIN


#
# ARIN WHOIS data and services are subject to the Terms of Use
# available at: https://www.arin.net/whois_tou.html
#
# If you see inaccuracies in the results, please report at
# https://www.arin.net/public/whoisinaccuracy/index.xhtml