Lo primero:  ¿Qué es whois? Es un protocolo y una herramienta que nos reportará datos acerca de un dominio o de una IP. Estos datos nos pueden reportar el titular del dominio o IP así como la nacionalidad o en el caso de la IP la geolocalización:
user@host~$ whois wordpress.com
 Domain Name: WORDPRESS.COM
 Registry Domain ID: 21242797_DOMAIN_COM-VRSN
 Registrar WHOIS Server: whois.markmonitor.com
 Registrar URL: http://www.markmonitor.com
 Updated Date: 2017-01-12T22:53:10Z
 Creation Date: 2000-03-03T12:13:23Z
 Registry Expiry Date: 2020-03-03T12:13:23Z
 Registrar: MarkMonitor Inc.
 Registrar IANA ID: 292
 Registrar Abuse Contact Email: abusecomplaints@markmonitor.com
 Registrar Abuse Contact Phone: +1.2083895740
 Domain Status: clientDeleteProhibited https://icann.org/epp#clientDeleteProhibited
 Domain Status: clientTransferProhibited https://icann.org/epp#clientTransferProhibited
 Domain Status: clientUpdateProhibited https://icann.org/epp#clientUpdateProhibited
 Domain Status: serverDeleteProhibited https://icann.org/epp#serverDeleteProhibited
 Domain Status: serverTransferProhibited https://icann.org/epp#serverTransferProhibited
 Domain Status: serverUpdateProhibited https://icann.org/epp#serverUpdateProhibited
 Name Server: NS1.WORDPRESS.COM
 Name Server: NS2.WORDPRESS.COM
 Name Server: NS3.WORDPRESS.COM
 Name Server: NS4.WORDPRESS.COM
 DNSSEC: unsigned
 URL of the ICANN Whois Inaccuracy Complaint Form: https://www.icann.org/wicf/
>>> Last update of whois database: 2018-02-06T23:42:26Z <<<

Y os preguntaréis, ¿Y de donde salen estos datos? Estos datos provienen de una base de datos que ofrecen los servidores whois. Estos servidores pueden tener información especifica o pueden ofrecer como por ejemplo "whois.internic.net" el cual nos facilita información acerca de práticamente cualquier dominio y se le puede preguntar por IP devolviendo el DNS de cada dominio asociado a esta IP.
Como puede verse en: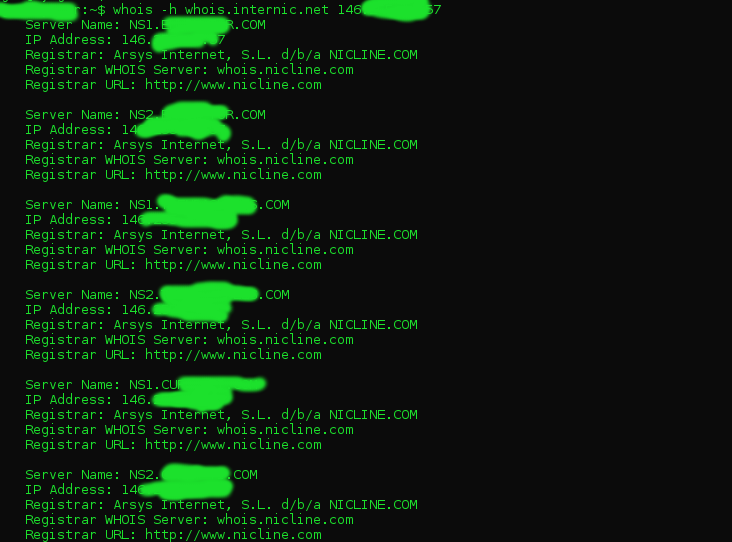 Si hacemos una consulta sobre una IP los servidores whois  por defecto, esta nos reportará todos los datos relacionados con el propietario de la IP, si se ha hecho un nslookup sobre un dominio y hemos obtenido una IP, ejecutando este comando podemos ver que proveedor de servicios aloja estos servicios:
user@host:~$ nslookup google.es
Server:		10.0.0.254
Address:	10.0.0.254#53

Non-authoritative answer:
Name:	google.es
Address: 216.58.210.131

user@host:~$ whois 216.58.210.131

#
# ARIN WHOIS data and services are subject to the Terms of Use
# available at: https://www.arin.net/whois_tou.html
#
# If you see inaccuracies in the results, please report at
# https://www.arin.net/public/whoisinaccuracy/index.xhtml
#


#
# The following results may also be obtained via:
# https://whois.arin.net/rest/nets;q=216.58.210.131?showDetails=true&showARIN=false&showNonArinTopLevelNet=false&ext=netref2
#

NetRange:       216.58.192.0 - 216.58.223.255
CIDR:           216.58.192.0/19
NetName:        GOOGLE
NetHandle:      NET-216-58-192-0-1
Parent:         NET216 (NET-216-0-0-0-0)
NetType:        Direct Allocation
OriginAS:       AS15169
Organization:   Google LLC (GOGL)
RegDate:        2012-01-27
Updated:        2012-01-27
Ref:            https://whois.arin.net/rest/net/NET-216-58-192-0-1



OrgName:        Google LLC
OrgId:          GOGL
Address:        1600 Amphitheatre Parkway
City:           Mountain View
StateProv:      CA
PostalCode:     94043
Country:        US
RegDate:        2000-03-30
Updated:        2017-12-21
Ref:            https://whois.arin.net/rest/org/GOGL


OrgTechHandle: ZG39-ARIN
OrgTechName:   Google LLC
OrgTechPhone:  +1-650-253-0000 
OrgTechEmail:  arin-contact@google.com
OrgTechRef:    https://whois.arin.net/rest/poc/ZG39-ARIN

OrgAbuseHandle: ABUSE5250-ARIN
OrgAbuseName:   Abuse
OrgAbusePhone:  +1-650-253-0000 
OrgAbuseEmail:  network-abuse@google.com
OrgAbuseRef:    https://whois.arin.net/rest/poc/ABUSE5250-ARIN


#
# ARIN WHOIS data and services are subject to the Terms of Use
# available at: https://www.arin.net/whois_tou.html
#
# If you see inaccuracies in the results, please report at
# https://www.arin.net/public/whoisinaccuracy/index.xhtml